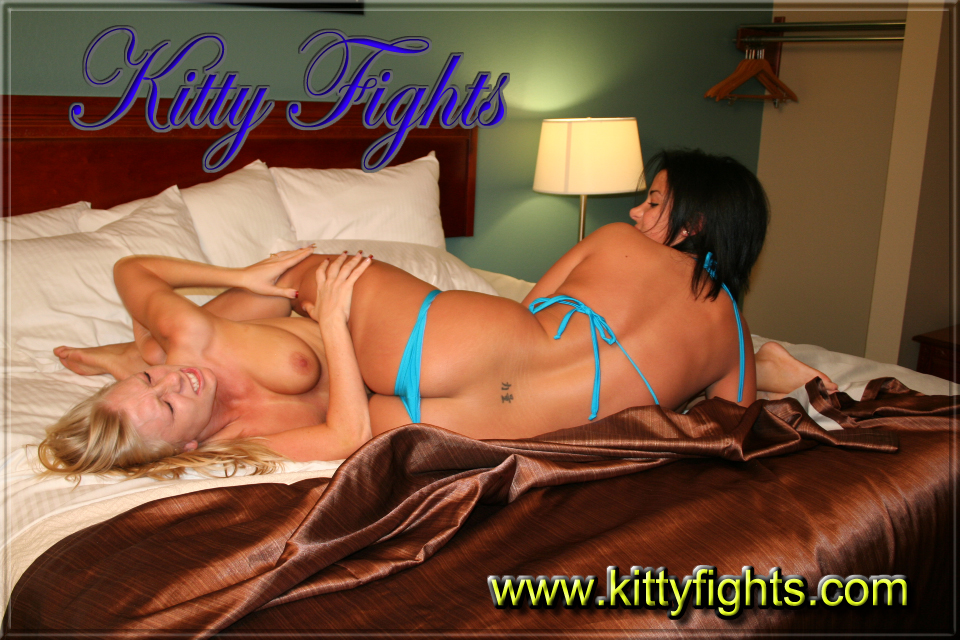 JOIN CLUB KF VIA TELEPHONE, CREDIT CARD OR VIA BANK ACCOUNT.
OCTOBER 6 : CLUB KF at Kitty Fights is better than ever. We're recruiting new Kittys and updating NOW EIGHT TIMES A MONTH ON MONDAYS AND THURSDAYS. Below are the changes.
Existing members will remain on with no changes other than those noted below re: the archives.
New members will join for $15.95 per month at a recurring rate until "you" cancel via email in which I need four days or more before the period you wish to cancel for. They will be treated to 25 to 35 minutes of clips usually ranging in the 7 - 20 minute range, PHOTOS from the clip segments will be posted as well as indivual photo segments such as "holds, catfight tactics, a themed catfight pictoral".
THREE MONTHS OF CLIPS and PHOTOS will remain available inside Club KF for existing members to enjoy.
This change has been gradual until now. August 25 begins the cycle with a one of my favorite belly punching clips involving three of Club KF's best Kittys to date.
FOR CLUB KF MEMBERS I WILL BE HOLDING MONTHLY CONTEST INSIDE THE CLUB IN WHICH YOU WILL BE ELIGIBLE TO WIN DVDS DOWNLOADS AND MORE BEGINNING IN OCTOBER 2011.
AUGUST 4 : Tonie vs. Jameson is now inside the Kitty Corner at: CFHVIDEOS1.COM
You need to check that one out and let us know what you think about Tonie becoming a full time Kitty. Jameson is working hard at becoming much better and I think you'll see a newfound drive or newfound bitchiness out of her soon. She has what it takes to be one of the best ever.
NOW SHOWING 25 - 35 PLUS MINUTES OF CLIPS PLUS MORE PHOTOS AND MORE OVERALL UPDATES (EIGHT EACH MONTH)
| | |
| --- | --- |
| $15.95 (30 days) | Recurring until you cancel |
| $41.95 (90 days) | Recurring until you cancel |
| $99.95 (365 days) | Non-Recurring (1-time fee) |
*PHONE BILLLING IS SLIGHTLY HIGHER THAN CREDIT OR CHECKING BILLING.
p.s. IT IS VERY EASY TO CANCEL ONCE YOU DECIDE THAT IS WHAT YOU WISH TO DO. You can email Matt from the site and request to have your membership cancelled but please do so 4 days in advance of the billing period.
*BEFORE CHOOSING AN OPTION WHEN YOU SIGN UP MAKE SURE IT IS THE CORRECT OPTION. NO REFUNDS WILL BE ISSUED FOR ACCIDENTALLY SIGNING UP FOR THE WRONG OPTION SO PLEASE MAKE SURE YOU CHECK THE CORRECT BLOCK.
JOIN CLUB KF AT KITTY FIGHTS NOW!
Choose the payment method of your choice below:
$19.95 for 30 days / $34.95 for 60 Days non recurring
All images are copyrighted, and/or licensed. Copyright ©2011 kittyfights.com
Use of any media from this site without permission is prohibited.